Academic Art of Riding & Franklin method
With focus on body awareness and partnership for strong and happy horses.
My name is Maria Homström (Pihl) and I teach the Academic Art of Riding in the west of Sweden, and am based in Göteborg. To me Academic Art of Riding is a beautiful form of art with focus on body awareness and partnership with the horse. To build up healthy horses that joyfully perform their work.  That is for me true wellness for the horse. In my work as an instructor I often saw how small changes in the seat made a big difference in the horse-human team and this made me even more interested in the seat. Now I am studying the human and our movements according to the Franklin method, and I offer seat education according to this principle, regardless of riding discipline.
Here on my site you can find my blog where you can take part of my life with horses, the Franklin method and Academic Art of Riding, how I am training and philosophizing about horse life. In my free online course "AAoR school", I have written a bit more in detail about how to start with Academic Art of Riding and how to develop your senses about horses. On my page on the Franklin method you can find tips and exercises for a better seat.
About Academic Art of Riding
Academic Art of Riding is based on how horses were trained back in the days and is building on the knowledge of old masters like Xenophon, Pluvinel, Guérinière and Newcastle, to mention a few. Bent Branderup reinstated this form of art and his motto is "Two spirits who want to do what two bodies can". He created the knighthood of the Academic Art of Riding with knights and squires and is now reaching out with the message that dressage is for the horse, the horse is not used for dressage. Dressage is used to build up strong and healthy horses and not mainly to collect rosettes. The goal is to make the horse able to carry itself and its rider in a healthy and sustainable way. Read more about how to do it in the AAoR school.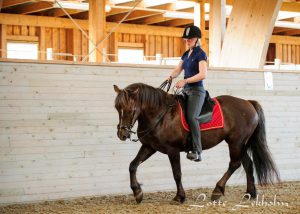 Teaching
I am an instructor in the Academic Art of Riding and I offer both lessons and clinics. I can also train your horse for you. I'll drive to your stable to allow you to train in the comfort of your home environment.
Maybe you want to find a stable yet flexible seat om the horse back?
Maybe you want to discover a new, soft and nice way of working with your horse and need a trainer to guide you?
Or do you have a so called problem horse with bad habits that you want to break the pattern with for you and your horse can  become a well functioning team?
Or maybe your horse has been hurt and now you want to start training again in a different way than you did?
Maybe you want a well mannered horse that is nice to ride in the forest? Or maybe you want intense training in the seat, the Academic Art of Riding, or rehabilitate your horse? Regardless of your goals I am happy to help you. Read more in lessons.